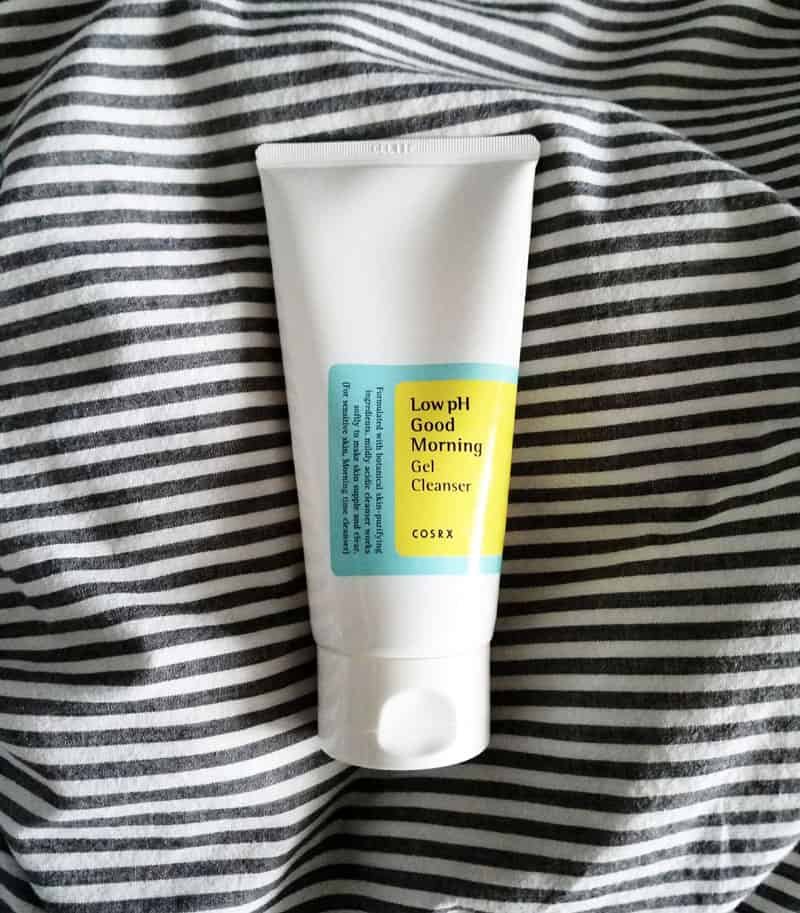 29 Nov

Cosrx Low pH Good Morning Gel Cleanser

COSRX 'Formulated with botanical skin-purifying ingredients, mildly acidic cleanser works, softly to make skin supple and clear 'For sensitive skin, Morning time cleanser' <Bottle Label>

I always search continuously for the perfect facial cleanser. Yet, I have to find one that I would use again and again. My checklist of qualities for the perfect facial cleanser gets even longer as time goes on. Now I expect a facial cleanser that;

1)That leaves the face feeling clean without over-stripping.

2) Helps to unclog my pores.

3) Doesn't leave any residue on my skin.

4) Lathers well.

5) low pH.

Cosrx Low pH Good Morning Gel Cleanser is one of the facial cleansers I have tried along the way and I thought it might fill all requirements. This type of cleanser is made to be used especially as an AM face wash. Including sensitive this product is suitable for all skin types. It is also assumed to have a mildly acidic pH of 5.0 – 6.0 of this product. Cosrx says that after your normal cleanser you can use it as a nighttime cleanser as well. I have tried this cleanser in my morning and night skincare routines, and have had a good experience with it. I would not say that it is a holy grail product but it performs the job as a gentle and nice facial cleanser.
Ingredients:
Here are the magical ingredients:
Cryptomeria Japonica Leaf Extract is used to reduce the loss of moisture and is a humectant.
Nelumbo Nucifera Leaf Extract is a skin conditioner.
Ulmus Davidiana Root Extract is a skin conditioner.
Pueraria Lobata Root Extract is a humectant & it is used to reduce the loss of moisture.
Melaleuca Alternifolia Leaf Oil is better known as tea tree oil and it is an antioxidant that is good for treating acne.
Here are the cursed ingredients:
Butylene Glycol is an acne irritant of 1.
Click this Link for the full list of ingredients and analysis.
How to use:
What Cosrx says to do:
**Taken directly from the bottle
In the Morning Time: With Good Morning Midly Acidic Cleanser Gentle massage on wet skin. Rinse thoroughly with tepid water and start your morning fresh every day.
For Day & Night Time: After you first wash with your normal cleanser, work with Good Morning Mildly Acidic Cleanser and smoothly massage on wet skin and wash out perfectly with lukewarm water.
What I do:
I use this usually as a morning cleanser, so first, I wet my face and then dispense a small amount into my hand. (I don't normally double cleanse in the morning)
I massage it onto my face after massaging between my palms to get it to foam up.
Lastly, I rinse thoroughly.
How it worked for me:
I think that the Cosrx Low pH Good Morning Gel Cleanser is definitely one of the better cleansers that I have tried and feel it does deserve some recognition for its gentle, yet effective formula. I think it is only useful for certain purposes and I prefer to use it in my morning routine only, even though Cosrx says you can use it in your PM routine also. I just do not find that it cleanses my pores well enough to use as a nighttime cleanser. Because of my oily skin, I need a deeper facial cleanser for nighttime, and this just doesn't cut it. Anyhow, it is perfect for the morning time when it is especially important not to strip your skin of all its essential oils. My suggestion is that the Cosrx Low pH Good Morning Gel Cleanser works perfectly with all types of skins, but those with oily skin types might want to think about purchasing a different cleanser at night or using it after another cleanser as Cosrx suggests.
Pros:
Great for cleansing in the morning
Doesn't leave skin feeling tight or stripped
But still leaves skin feeling clean
Didn't break me out
Works well for all skin types
Low pH
Travel-friendly
Affordable